Conference
​DMPC 2016 is committed to bring together top-level executives and elites under one roof to explore industrial frontiers,share their insights and showcase the latest technologies and products.  Join the DMPC-2016 and take a deeper insight into global digital 
3 — 4 November 2016
China, Shanghai, Shanghai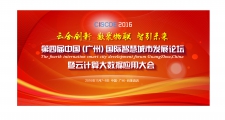 Forum
This forum organized by Guangzhou Academy of smart city, Chinese Information Communication Research Institute of technology innovation alliance.
7 — 8 November 2016
China, Guangzhou Shi, ChimeLong Hotel, Guangzhou

Conference
With the Strong Support from China Federation of Industrial Economics and Shanghai Jiaotong University and etc, .CIFM2016 is anticipating 500+ participants in Intelligent Manufacturing industry worldwide, among which 200+ will be coming from key manufaturing enterprises. You will meet and greet opin
9 — 10 November 2016
China, Shanghai, The Longemont Shanghai

Conference
The Energy Internet Summit 2016 will address the most crucial issues that will determine your performance objectives in China and the world.
9 — 10 November 2016
China, Shanghai, Shanghai
Conference
Know more about the fixed income market in China and Asia, meet 250+ best bond investment and trading executives with us in 2016.
19 November 2016
China, Shanghai, Shanghai, China

Forum
Biz Brain Group (www.bbzgroup.cn) is the integrated producer and organizer of top-level business events. We focus on the development and operation of the strategic, market leading business conference, provide worldwide business executives with the business platform , which is learning, net-working..
1 December 2016
China, Shanghai, Shanghai Convention & Exhibition Center of International Sourcing (SHCEC)