Conference
Конференция для разработчиков посвященная архитектуре высоконагруженных приложений
19 May 2017
Ukraine, Kiev, CONGRESS HALL COSMOPOLITE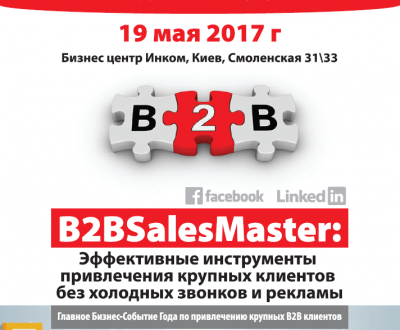 Conference
19 мая 2017 года в Киеве пройдет Главное Бизнес-Событие года по привлечению крупных B2B клиентов «B2BSalesMaster: Эффективные инструменты привлечения крупных клиентов без холодных звонков и рекламы»
19 May 2017
Ukraine, Kiev

Conference
DevGAMM is the biggest conference for game industry professionals in Russia, Ukraine and Belarus. The event offers quality content about game development, low entry threshold for beginner developers as well as a series of activities meant for productive pastime and effective networking.
18 — 19 May 2017
Russia, Moscow, Radisson Slavyanskaya Hotel

Conference
The annually China Airline Ancillary Revenue & Merchandising Conference is the only event in China, which focus on providing a communication platform between Airlines from China and abroad to share ideas, learn the new solutions and establish the potential business opportunities
18 — 19 May 2017
China, Shanghai

Conference
The 8th China International Energy Storage Station Conference which hosted by China Decision Makers Consultancy (CDMC) will be held in ShenZhen, China on May 25th, 2017. We are looking forward to seeing you in 2017.
11 — 12 May 2017
China, Shenzhen Shi, Shenzhen

Conference
Основной курс российской экономики сегодня: развитие и повышение конкурентоспособности. Одна из главных мер в этом направлении: локализация производства.
28 April 2017
Russia, Moscow, Hilton Moscow Leningradskaya

Conference
During the 4th China Gas Turbine Focus 2017,you will hear senior executives, corporate officers, and government regulators talking about the developing opportunities of gas.
27 — 28 April 2017
China, Shanghai, Shanghai

Conference
Первое в мире бизнес-событие, посвящённое полностью играм, нетворкингу и их взаимосвязи.
27 April 2017
Russia, Moscow

Conference
The Fourth International Conference on Education, Technologies and Computers (ICETC2017)
22 — 24 April 2017
Ethiopia, Addis Ababa, St. Mary's University

Conference
Государство – самый платежеспособный клиент. Вам не нужна реклама, государство само платит миллионы, чтобы найти Вас. Средний чек в гос. закупках в среднем в 35 раз превышает аналогичный показатель при работе с частными клиентами. Программа уникальна и не имеет аналогов.
22 — 23 April 2017
Russia, Moscow