Sport event
Проект «Стальной характер» - это забег по экстремальной полосе препятствий, являющийся новой формой увлекательного и активного отдыха, граничащего с экстримом. Данный проект доступен разным людям: спортивным и неспортивным, рискованным и осторожным, уверенным в себе и тем, кто только учится им быть.
29 April 2017
Russia, Elizavetinskaya, Станица Елизаветинская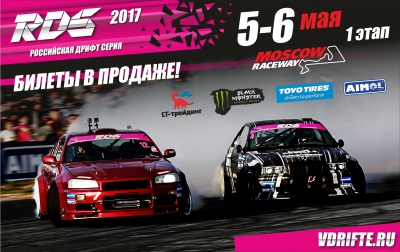 Sport event
1-й этап "Российская Дрифт Серия" (РДС) 2017 5-6мая - Автодром "МОSCOW RACEWAY" с.Шелудьково Московской Области (Волоколамское или Новорижское шоссе 95й км)
5 — 6 May 2017
Russia, Sheludkovo, Moscow raceway
Festival

Sport event
СРК «ЭВОЛЮЦИЯ» представляет новую программу - Гонка «Эволюция Преодоление». Мероприятие пройдёт 23 апреля на территории СРК «Эволюция» - индивидуальная гонка Гонка «Преодоление» это отличная возможность проверить себя, бросить самому себе вызов, позволяющий проявить мужество, силу воли...!
20 — 21 May 2017
Russia, Kostenki
Congress
www.mioff.fitness
25 — 28 May 2017
Russia, Esto-Sadok, MIOFF ROSA KHUTOR
Trade show
Second B2B exhibition of​ bicycles and outdoor brands. 7 and 8 of September - Business days, 9 of September - consumer day.
7 — 9 September 2017
Russia, Moscow, Sokolniki Exhibition Centre