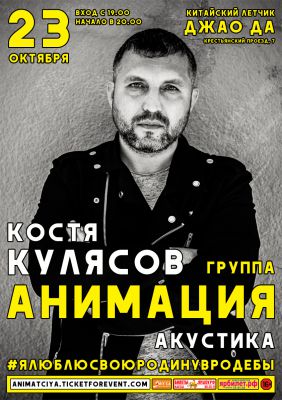 Concert
​Костя Кулясов / группа "АнимациЯ" Акустика 23 октября 2018 Ярославль Клуб "Китайский Лётчик Джао Да" Адрес: Крестьянский проезд, 7 Вход с 19.00 Начало в 20.00
23 October 2018
Russia, Yaroslavl'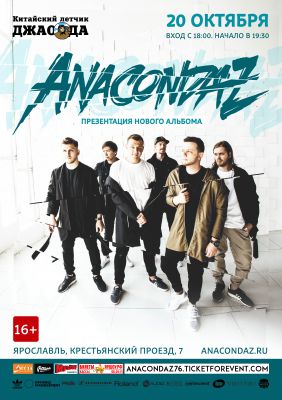 Concert
ANACONDAZ в Ярославле. Презентация нового альбома. 20 октября 2018 Клуб "Китайский Лётчик Джао Да" Адрес: Крестьянский проезд, 7. (Вход с ул. Нахимсона , через арку дома №16) Вход с 18.00 Начало в 19.30
20 October 2018
Russia, Yaroslavl'
Concert
​LITTLE BIG впервые в Череповце 17 октября Клуб PLATINA Адрес: ул. Леднева, 4 Вход с 18.00 Начало в 19.30
17 October 2018
Russia, Cherepovets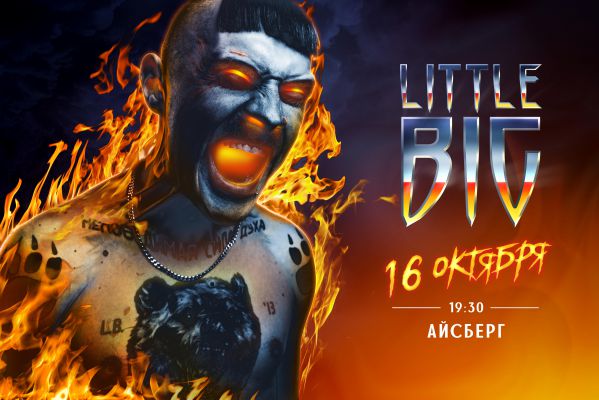 Concert
​LITTLE BIG впервые в Иваново 16 октября Клуб АЙСБЕРГ Адрес: ул. Громобоя, 10 Вход с 18.00 Начало в 19.30
16 October 2018
Russia, Ivanovo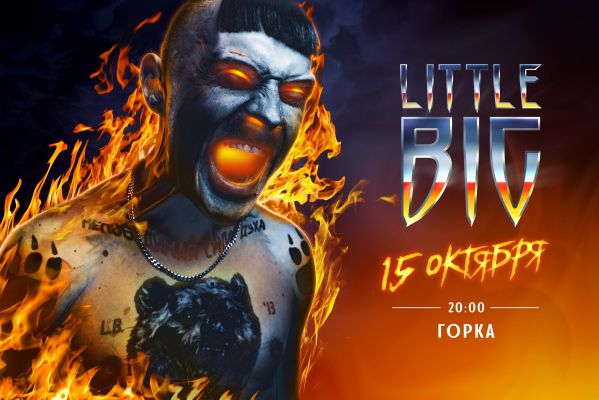 Concert
​LITTLE BIG в Ярославле 15 октября Клуб ГОРКА Адрес: Первомайский бульвар, 1 Вход с 19.00 Начало в 20.00
15 October 2018
Russia, Yaroslavl'
Concert
On Friday, October 12, 2018, Rebekah will visit Kyiv with her vision of dark and ominous techno.
12 October 2018
Ukraine, Kiev, Kyrylivska 86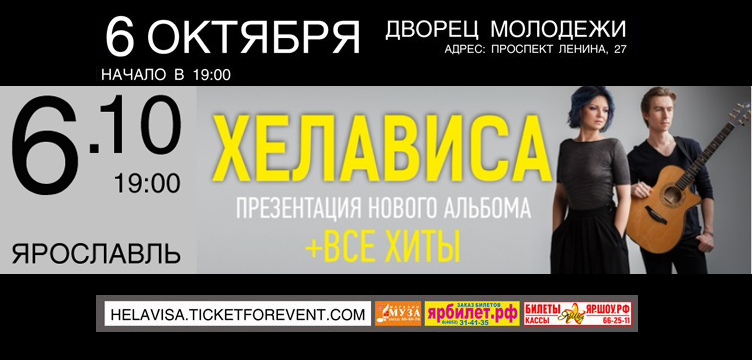 Concert
ХЕЛАВИСА. Презентация нового альбома. Все хиты 6 октября Ярославль Дворец Молодёжи Адрес: проспект Ленина, 27 Начало в 19.00
6 October 2018
Russia, Yaroslavl'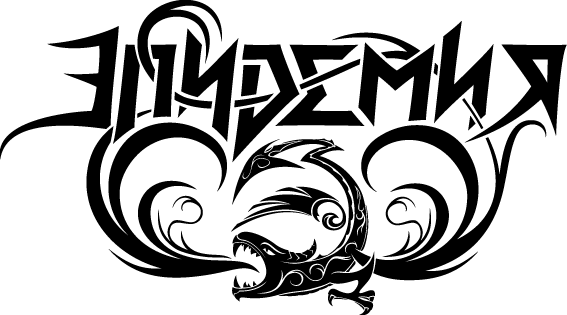 Concert
5 октября легендарная heavy power metal группа «ЭПИДЕМИЯ» вернется в Иваново и представит свою новую метал-оперу "Легенда Ксентарона", а также хит-блок из самых лучших песен! До встречи в "Бункере"!
5 October 2018
Russia, Ivanovo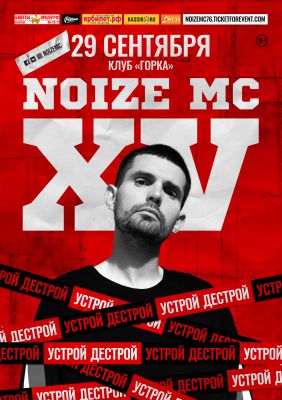 Concert
NOIZE MC отметит 15-ЛЕТИЕ ГРУППЫ в ЯРОСЛАВЛЕ! 29 сентября Клуб ГОРКА Адрес: Первомайский бульвар, 1 Вход с 18.00 Начало в 19.30
29 September 2018
Russia, Yaroslavl'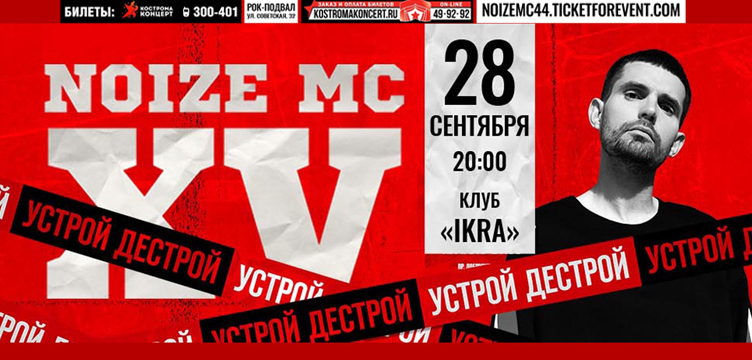 Concert
​NOIZE MC отметит 15-ЛЕТИЕ ГРУППЫ в КОСТРОМЕ! 28 сентября Concert-hall & Club «IKRA» Адрес: 2-я Волжская, 4в Вход с 19.00 Начало в 20.00
28 September 2018
Russia, Kostroma